Probably the most well-known Polish Air Force fighter unit is the 303 Squadron of the in Great Britain in the period of the Second World War. The history of fights of the squadron was popularised during the war in Arkady Fiedler's book "Dywizjon 303".

Hurricane 303 Squadron, September1940, Northolt. Photo from Wojtek Matusiak collection.
With the release of the films "Squadron 303" and "Hurricane", the interest in the Squadron has experienced renewal. The history of the unit, which fought only for a little over a month from the entire Battle of Britain and achieved the best result among all the squadrons, became a favourite topic again.
Hurricane Mk I model kits from 303 Squadron
Contrary to popular belief, the Polish pilots of the 303 Squadron in the Battle of Britain did not fight on Spitfire aeroplanes. They used the more popular RAF fighter then, the Hawker Hurricane Mk I aircraft. Although this plane played a crucial role in stopping of the offensive of Hitler's Germany for the first time, it did not be rendered in a good replica in the scale of 1/72. Even the latest model from Airfix presents a version from the period before the Battle of Britain. However, the well designed Hasegawa model is difficult to access and has simplified interior and chassis details. The high price also plays a significant role.
Hurricane from Arma Hobby
The new Arma Hobby models have been designed according to the latest modelling trends and solve the problems faced by modellers building model kits from other companies. The models will be available in December 2018, more information can be found in the description of individual models.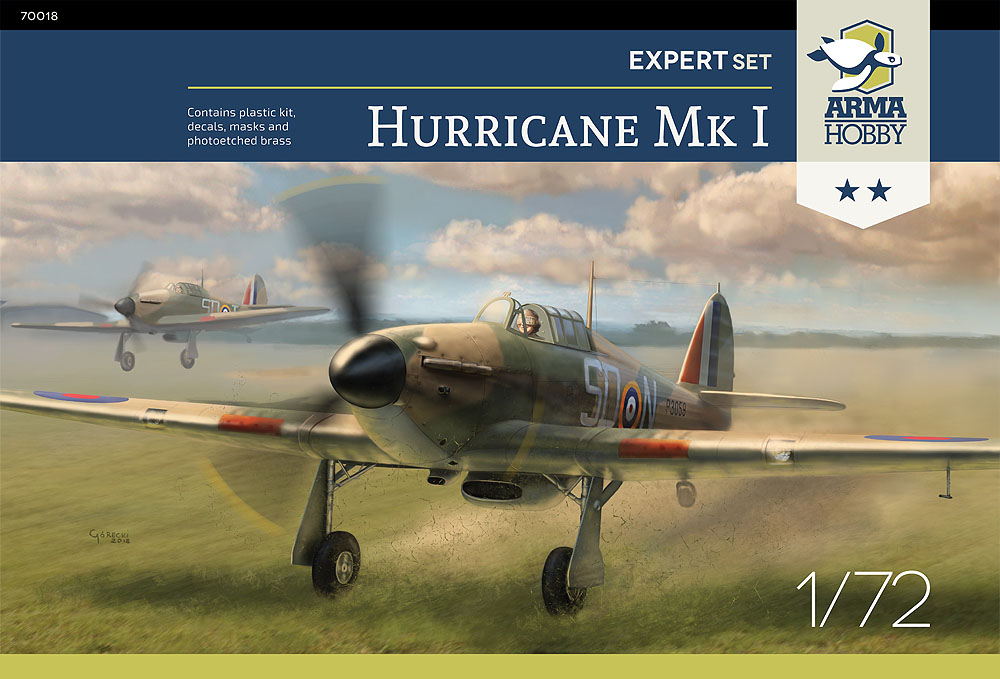 70019 Hurricane Mk I Expert Set – set for experienced modellers with huge decal sheet (four diffeerent markings options) and with extra accessories included: canopy masks, photoetched parts.  – release November/December 2018
Hurricane MkI , serial P3059, fuselage code SD-N from 501 Squadron RAF, August 1940. Aeroplane piloted, among others by Polish fighter pilot Sgt Antoni Głowacki
Hurricane MkI , serial V7234, SD-A from 501 Squadron RAF, August 1940. The most successful aeroplane of Sgt Antoni Głowacki. Credited with six shoots down and one damaged aircraft of the Luftwaffe. Glowacki has achieved five kills in one day (24 August 1940) and became the only "one day ace" in Battle of Britain
Hurricane MkI , serial R4175, fuselage code RF-R From 303 Polish/RAF Squadron, pilot Sgt Josef Frantisek has shot down seven of his seventeen kills during the Battle of Britain. Unfortunately, he was killed when accidentally crashed this aeroplane on the ground during patrol flight on 8th October 1940.
Hurricane MkI trop, serial 284, fuselage code "yellow J", 3 Squadron SAAF, Kenia 1941. Pilot Lt. Robert Kershaw has rescued his shot down commander, Cpt. John Frost, after Diredawa (Ethiopia) air raid on 15 March 1941.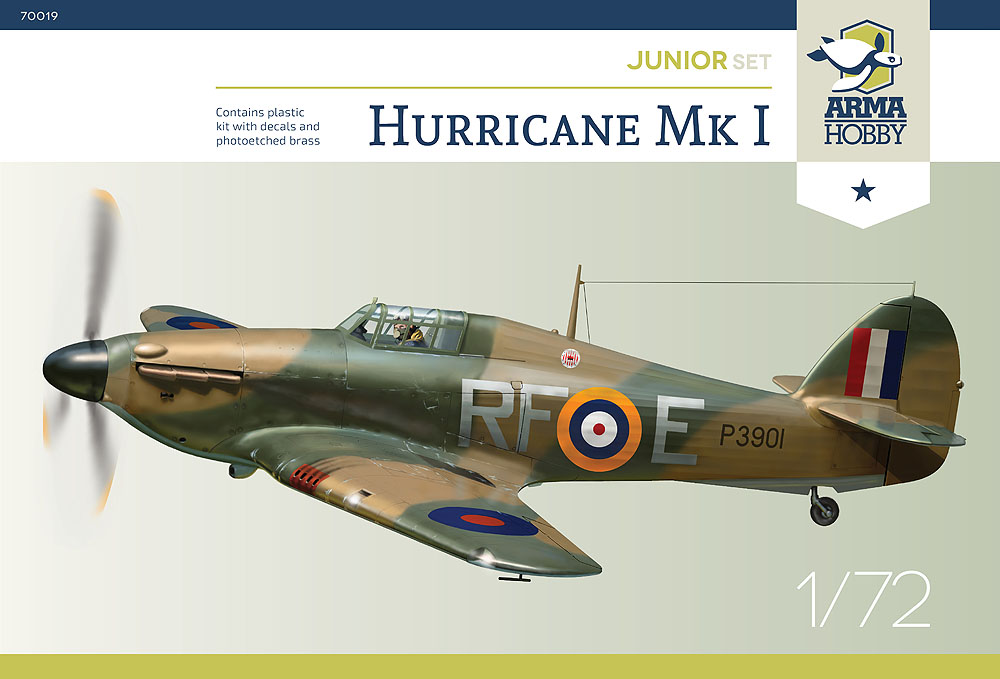 70020 Hurricane Mk I 303 Squadron Model Kit (former Junior Set) – basic set with regular decal sheet (markings for Squadron 303 and 1 RCAF) – release December2018.
Hurricane Mk I P3901/RF-E, 303 Squadron Polish Air Force, Northolt, September-December 1940. The aeroplane was flown among others by P/O Jan "Donald" Zumbach i F/O Witold "Cobra" Urbanowicz. W. Urbanowicz shot down 9 of his Battle of Britain victories including four kills a day claimed twice when flying this Hurricane.

Hurricane Mk I V6605/YO-N, 1 Squadron RCAF, Northolt, September 1940. Aeroplane from a Canadian squadron borrowed to 303 Squadron. F/O Zdzisław Henenberg has claimed Me-109 probably destroyed on 7th September 1940.
See and choose Hurricane model kits and Techmod decals here

Techmod decals for Hurricane Mk I 303 Squadron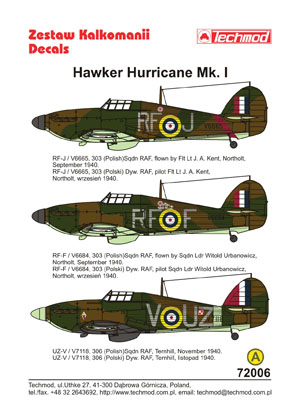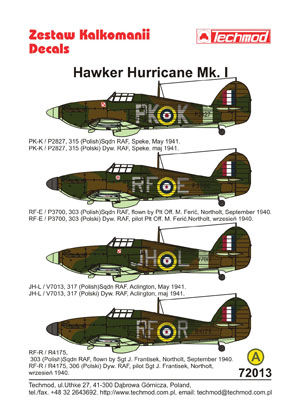 72006 Hawker Hurricane Mk I
Hawker Hurricane Mk I, RF-J V6665, 303 Sqn RAF (Polish), Flt Lt J.A. Kent, Northolt, September 1940
Hawker Hurricane Mk I, UZ-V V7118, 306 Sqn RAF (Polish), Ternhill, November 1940
Hawker Hurricane Mk I, RF-F V6684, 303 Sqn RAF (Polish), Squadron Leader Witold Urbanowicz, Northolt, September 1940
72013 Hawker Hurricane Mk I
Hurricane Mk I, PK-K P2827, 315 Sqn RAF (Polish), Speke, May 1941
Hurricane Mk I, RF-E P3700, 303 Sqn RAF (Polish), P/O Mirosław Ferić, Northolt, September 1940
Hurricane Mk I, JH-L V7013, 317 Sqn RAF (Polish), Aclington, May 1941
Hurricane Mk I, RF-R R4175, 303 Sqn RAF (Polish), Sgt Josef Frantisek, Northolt, September 1940
Buy Hurricane model kits and Techmod decals here