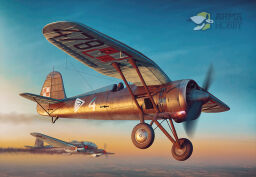 Państwowe Zakłady Lotnicze (State Aircraft Works) were founded on 1928. In next year a first prototype PZL P.1. was designed making a new chapter in aircraft design technology. During 76 years of history PZL has designed and produced a number of extraordinary aircraft: PZL.11c, PZL 37 Łoś, TS-11 Iskra. Today PZL factory manufactures turboprop advanced trainer PZL-130 Orlik.


Models of PZL aircraft
In our growing range of products you find a number of  PZL aircraft model kits 1/48 and 1/72 scale.