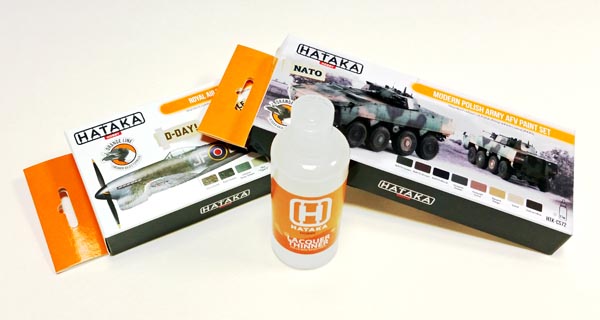 Hataka Hobby on the new year introduces another series of modeling paint. Lacquer series Orange Line is a high-end product, compared with the best counterparts from Japan. See what features new paint offers.
Paints vs Acrylics
Is different new lacquer paint from the typical modeling acrylic paints?
Acrylic paints are water  soluble. It is composed of coarse pigment immersed in resin. Their advantage is odorless, dilution with water. The downside - is that they require a thicker layer of the coating color.
Lacquer paints are diluted with cellulose thinner. They have fine pigment. They flow very well through the airbrush and allow for precise application of thin, opaque layers. If your model has delicate details – regular paints certainly will seal them. But thin panel lines will be visible even after the application of several layers of different lacquer colors.
Lacquer Thinner from Orange Line also dilutes lasquers from other manufacturers, including cellulose paints from Gunze and Surfacer. Orange Line thinner's indisputable advantage is much weaker, and more pleasant smell. If your family members are sensitive to the smell of Leveling Thinner check how they will react on the Orange Line thinner.
The first sets of Lacquer Orange Line
Sets from Orange Line are now available in our shop link. The first are sets:
HTK-CS07 Royal Air Force paint set ORANGE LINE
HTK-CS72 Modern Polish Army AFV paint set ORANGE LINE
You can also buy separate colors from these sets, check here.