70031 FM-2 Wildcat ™ Expert Set!
Add feedback:
(See the reviews)
70031

Manufacturer:

Arma Hobby

Availability:

In Stock

Type:

Aeroplane model

Medium:

plasic + accessories

Scale:

1/72

Remarks:

Grumman Wildcat™ is a trademark Northrop Grumman Systems Corporation and is used under license by Arma Hobby
FM-2 Wildcat ™ naval fighter plastic model 1/72 scale. Expert set with accessories.
Looking for more information and inspiration about the model? Check articles with documentation and modell gallery section in armahobbynews.pl website link.
FM-2 Wildcat ™ Expert Set, Arma Hobby 1/72
Plastic model kit of the FM-2 Wildcat™ aircraft, new tools, expert set with accessories.

plastic parts




photo etched




decal with 6+2 marking options (5x USN 1x FAA + 2 bonus)




masks for canopy and wheels
Markings options
FM-2 Wildcat, BuNo unknown/B6, Composite Squadron VC-10, CVE-73 USS Gambier Bay, pilot Ens. Joseph Dennis McGraw, Battle off Samar, 25 October 1944.
FM-2 Wildcat, BuNo 16262/B19, Composite Squadron VC-10, CVE-73 USS Gambier Bay, pilot Ltn. Herman J. Hardess, Marianas 15 czerwca 1944
FM-2 Wildcat, BuNo 16130/3, Composite Squadron VC-8, CVE-60 USS Guadalcanal, pilot Ltn. (j.g.). F.H. Behlen III, North Atlantic, 30 May 1944.
FM-2 Wildcat, BuNo unknown/1, Composite Squadron VC-69, CVE-60 USS Guadalcanal, North Atlantic, Autumn 1944. Aeroplane with rocket stubs fitted.
FM-2 Wildcat, BuNo unknown/2, Composite Squadron VC-96, CVE-81 USS Rudyard Bay, Okinawa, April 1945. Aeroplane with rocket stubs fitted.
Wildcat Mk VI, JV768/S-X, 882 Squadron FAA, HMS Searcher, pilot S.Lt. Ronald F. Moore, RNVR, claimed  ½ Bf-109G, "Operation Prefix", Trondheim, Norway, 26 March 1945, Bonus – serials and code letters for two other aeroplanes from this fight.
FM-2 instruction correction (click to open full size picture)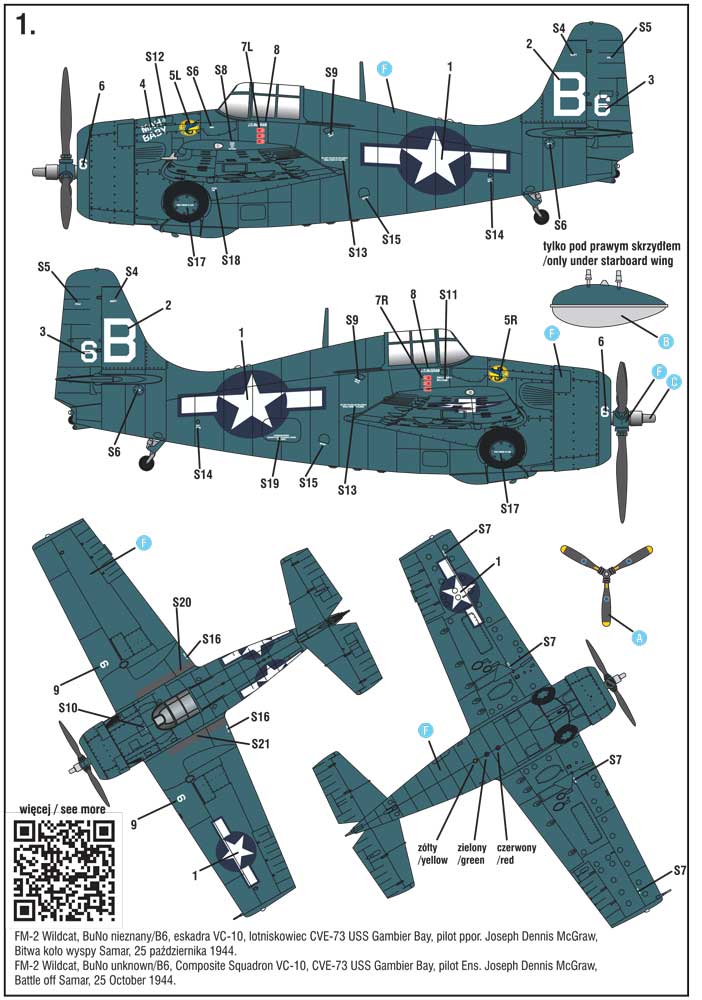 Video Review FM-2 Wildcat Arma Hobby 1/72:
FM-2 Wildcat carrier fighter
The aircraft was the last mass-produced variant of the Grumman F4F Wildcat carrier fighter. Designed at the end of June 1942 aeroplane was based on the XF4F-8 prototype. From the previous versions, the new fighter mounted a new, more powerful Wright R-1820 engine and had a higher rudder. At that time, the parent Grumman plant focused on the production of F6F Hellcat fighter planes and TBF Avenger torpedo-bombers. The production of the new Wildcat was transferred to the Eastern Aircraft Division plants of the General Motors (GM) group; hence the new name of the aircraft is General Motors FM-2.
New, more powerful Wildcat
Modifications of the Wildcat FM-2 allowed having a capable, light-weight fighter for escort carriers. The use of a new, more powerful engine with a lighter structure (and armament reduced to 4 MGs) resulted with better combat properties than its predecessor. The FM-2 aircraft could successfully fight the A6M5 Zero fighters and the Bf-109G. The vertical stabilizer was enlarged to compensate for higher propeller torque.
An additional advantage was the increased armour of the pilot's cockpit, as well as the adaptation of the last series of aircraft to carry non-guided missiles HVAR (High-Velocity Aircraft Rockets). This modification has significantly increased the aircraft's effectiveness in attacking ground targets and submarines.
 The aircraft remained in production until May 1945. A total of 4407 FM-2 fighters were produced, which accounted for 70% of the total number of Wildcat fighters produced in all varieties. 340 aeroplanes were handed over to Great Britain, where they joined Fleet Air Arm under the name Wildcat Mk.VI.
FM-2 combat operations
The FM-2 aircraft were part of the air groups stationed on US Navy escort aircraft carriers (CVE). They performed tasks specific to fighter planes, such as defending fleet and landing operations against air attacks (including Kamikaze), they also successfully attacked ground targets and shipping. At the same time, in the Atlantic, in cooperation with TBF Avenger torpedo-bombers, they successfully fought German submarines.
 The most famous episode of World War II, in which FM-2 fighter aircraft took part, was fought on October 25, 1944. The Battle off Samar in the Philippines. Together with Avenger bombers, they defended their aircraft carriers against a direct attack by the surface capital ship forces of the Japanese Imperial Navy. American FM-2 served well in the fight for the Marianas, Philippines, Iwo-Jima and Okinawa.
In British service, Wildcat Mk VI fought in the Atlantic, covered landing in Southern France, in operations over Norway and Denmark, and in the Far East. They were famous for repelling the Bf-109G-14 attack on the formation of torpedo planes on March 26, 1945, in the Trondheim vicinity in ​​Norway.
historical briefing by Marcin Wawrzynkowski, KPM