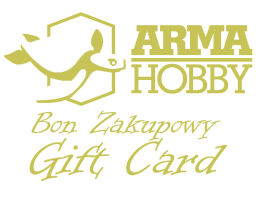 Gift Cards, shopping vouchers are special codes to use when shopping at the Arma Hobby website. Used in the basket when placing orders, gift card reduces the amount due by the value of the voucher. The voucher works in conjunction with current promotions, does not exclude them.
A gift for the modeller
If you are looking for a gift for the modeller, for your husband, father, brother or son, a shopping voucher can be a perfect choice. The recipient will buy the models and accessories he needs. You will feel relief giving him the right gift and great satisfaction when he enjoys shopping the products you need.
How does the Gift Card work?
You will receive a gift voucher by email after the order has been processed by the store staff, it will not take a long time. Copy the code sent in the message and use it in the appropriate blank in the store's basket page when placing the order. The amount to be paid will decrease by the value of the voucher.
Detailed information on voucher use you can find on product pages: